*Laughs* Stella Deus has some weird character designs. Plus newly introduced characters all start sounding the same from Gula onwards. The AP system is awesome though. None of that one move + one attack stuff for me, thanks. But Tia and Adara can't seem to attack enemies that're on higher ground. Oh well. Adara's forgiven. Oh, Adara~
And I'm almost done with it. And SH:FtNW. And WA3, and SH:C, and SO3.
Since Haruhi Suzumiya is finished, I need to catch up on several other series. Unfortunately for Ouran Host Club, Doctor Who gets priority because of David Tennant and K-9. Utawarerumono gets priority over Doctor Who because of Eruruu. And Noein gets priority over Utawarerumono, just because. It'll be interesting to see how well NHK ni Youkoso! is handled though.
On another note, I got treated to lunch at
Max Brenner
on Wednesday. It's a bar. A
chocolate
bar. Now I'm off chocolate for a week.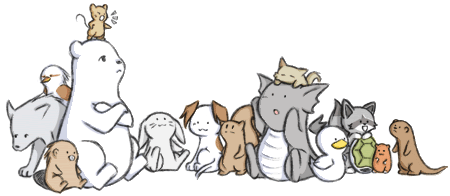 From left to right: Wolf, kookaburra, beaver, polar bear, mouse, hare, dog, squirrel, dragon, cat, duck, raccoon, turtle, hamster, otter.
Yeah, I've been bored between novels and exams.
(
Collapse
)
Heck, let's add a random
egg
.
In any case, there's just over a week of term break left before I get hit with 20 hours of class a week as well. Heck, keeping up with the reading itself is a 3 month chore. Gotta try harder this semester, darn it!